Our third Community Assignment, Light Painting, yielded 25 unique submissions from our private Facebook group. Among them were images of cars, bicycles, bottles, night skies, city streets, and a light-painted shaman named Sherman.

Of the 25 submissions, one image was so unique and well-executed it simply could not be ignored. Marie-France Millasson's submission, titled Nature Morte, was the studio favorite at RGG EDU. The image was incredibly unique, styled beautifully, and lit perfectly. Rob was amazed by how well the shape and form of the subjects was brought out giving an almost three-dimensional quality to the image.

We caught up with Marie-France this week to find out more about the image and how it was produced:

Tell us about yourself and your work as a photographer.
My name is Marie-France Millasson and I'm from Switzerland. The French part of Switzerland between Lausanne and Montreux. I mostly do portrait work (corporate portraits) although I'm not specialized in one specific subject. Most often I'm going into businesses with my studio on my back to photograph people.

I started photography when I was 16 years old. I worked for a company doing lab work (film) and selling camera equipment, but I was really only interested in taking pictures! After training I worked as a photographer for about 2 years but stopped because I felt too shy and too young to work by myself. At that time there was no place to work as a photographer in Switzerland.

I went to school to study banking and marketing then worked as a marketing manager in banks for many years. During this time I also organized exhibitions for artists. One exhibition was with a passionate animal photographer. I realized I was bored with my job and wanted to get back into photography. I bought a Nikon D800 and started taking pictures again. Five years ago a friend who owns an event company began hiring me to photograph events. I started photographing more and working my job less, and finally decided to quit my job and be my own boss as a photographer two years ago.
What RGG EDU tutorials have you watched?
Beverage Photography & Retouching with Rob Grimm, Editorial Food Photography & Retouching With Rob Grimm, Beer Photography & Retouching With Rob Grimm, Retouching Beauty Portraits with Pratik Naik, Dramatic Portraiture & Lighting With Chris Knight.
Tell us about your image. Does it have a title? What inspired it?
The title is RGG EDU Light Painting: Nature Morte. I wanted a little feminine subject so I used these objects that I have in my studio. I didn't want to photograph a car, I didn't know how to do that! I loved the red shoe I had used at the time of the first community assignment.
How did you create the image?
I arranged the objects to have a harmonious composition. I worked with my Nikon D800, 85mm at F9 ISO 100 and Bulb.

I started with Lightroom and finished the image in Photoshop. I used more than 35 layers to composite the image. I shot about 70 photos total.

For lighting I used two different sources. One was a Viltrox L116T and the other was flashlight (Olight S10R Baton II) with a special tip/diffuser that I bought from Harold Ross, a fine art photographer!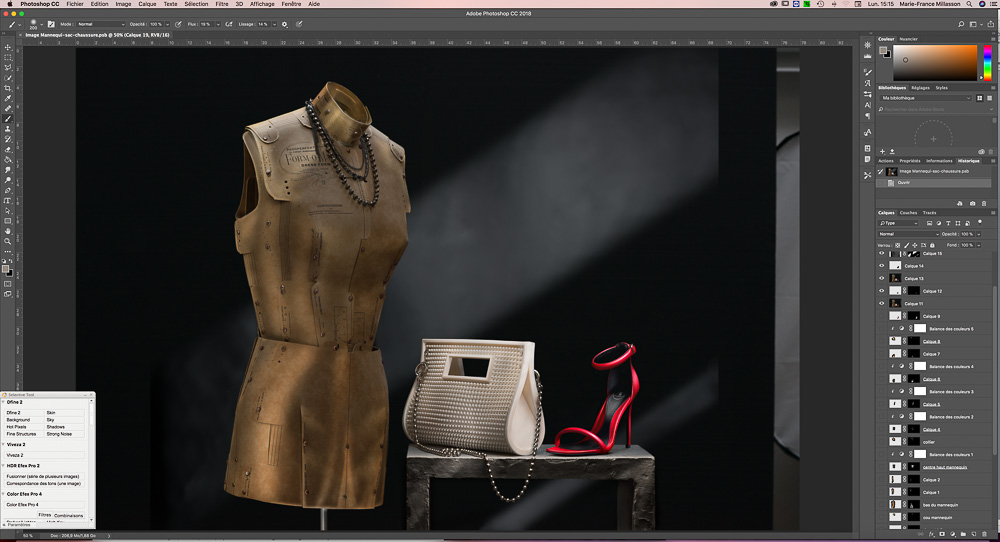 Before this assignment had you done any light painting?
Yes! Last year I went on a trip to the USA for 3 days to take private lessons with Harold Ross on light painting. I haven't had an opportunity to make a photo since the first community assignment! I realize that I have a lot of work to achieve the quality of his photos.
What are you currently working on? What are your goals for 2018?
I have several personal projects. I am currently doing couples pictures. The theme is "Qui se ressemble s'assemble. Maybe in English is "Who Looks Alike." I take pictures of couples and mix parts of their faces. This creates very unique faces.

Another project is Secrets. I tried to photograph political refugees, journalists, or other people who have had to leave their country, but all the people refused to show themselves! I still kept this subject but I work on lighter secrets, For this theme I make a portrait and I replace the mouth with the navel. We can not speak but we feel everything in his belly!
My goals are to be able to work with a new communication agency later this year.